48HoursofRuckus
For those of you who are new to TotalRuckus welcome!!
48 Hours of Ruckus is a chance for you to get out and RIDE. That is the whole point of this! for you to have a reason to go out and cause a ruckus! What it is… Basically it is a online scavenger hunt where you go around and look for totally random things take a specific picture and post it up and go to the next for 2 days straight. I will be experimenting this year and try running a dual experience for the hipster with instagram (#48hoursofruckus20) and those who don't get into the social media scene can post up here and it will both be counted. I prefer you post up here with all them listed in one post (if that means just uploading them all at once or editing as you go) but if you want to post pic by pic on insta make sure they are tagged with the hashtag for me to see them.
List will be dropped on 8/22/20 I will post it up here first and then instagram (I am just one person cant do multiple things at the same time get over it

) so if you want the jump stay posted here to get the list asap.
Basic rules are:
I am the sole judge (why yes I do accept paypal)
I will post a list of challenges
You get the most you can the fastest you can
Person who gets the most in the quickest amount of time wins
But FatKid how do I play?? Go out and take your pictures post as you go or save till the end. Post them up here (or instagram with #48hoursofruckus20) all the way up till 48 hours after the list has been dropped and you are playing. It is free (for you) cost nothing to play. This is FOR FUN! the bragging rights are pretty good (multiple winner here turned to coordinator) but the fun is priceless. This will give you a chance to get out and "social distance" for 2 days so do a favor and play with us!
Cool stuff to know!
There is a TROPHY for the WINNER and only the WINNER!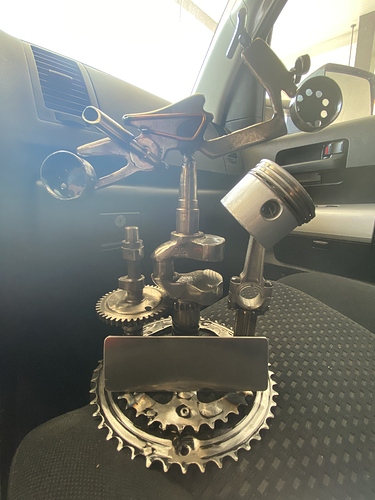 (insert pic here FATKID! we are all waiting to see it!!!) This trophy has been custom made by an artist to be coveted by all! and trust me it is already going to be hard to leave my garage!
This will be on 2 platforms at the same time! Totalruckus2020 and Instagram.
This is for mulitple reasons. Last year we had a nice turn out for the first ever instagram version of this game and the year before that we had a decent turn out for the forum version. So it is my hopes (and fears) that we have an AMAZING turn out for 2020! so spread the word to your friends, your kids, your coworkers. If they got 2 wheels they can play. Ruckus preferred but not mandatory. the bigger the bikes CC's the less of the score for each point. This is a scooter related event but if all you got is a crusier or crotch rocket and want to play come on but you better strive for each and every extra credit there is.
Rules:
Take a picture with your masked buddy to earn a point. This buddy is up to you I will leave creative rights to the rider.
Points are given on quality/effort/content.
Pictures must be new/ no archived photos.
Instagram photos need #48hoursofruckus20 tag
Forum photos need to be under one post (edit as you go/or upload at the end before time is up)
Photos will be accepted from 08:22 CST 8/22/20 and will close at 08:24 CST 8/24/20