Honda Monkey 12v engine thread
Honda Monkey 12v questions here.
My Lifan 150 swap in my ct70 (Big Monkey)
Lifan 150cc
Mikuni vm26 carb
Upswept exhaust
12v swap harness
Half Gal Aux Side tank for fuel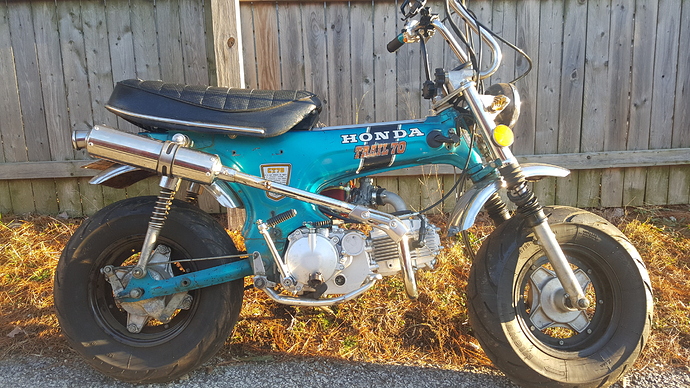 Nice manual transmission. Bet it hauls ass. Does it use that odd Lifan cdi?
Thanks man! Got a 16tooth sprocket up front and the factory 38? I think rear. Never banged it off the limiter but I know a stock Grom will do 67 on the limiter. And I looked over at a dude I was riding with when I heard him hit the limiter. Smiled and went WOT and pulled away from him with ease.
The CDI is actually just a run of the mill gy6 cdi. Main reason I went with the 150 is it's almost identical to a scooter gy6 crank up is all the same. So parts are super easy to get for it.
Down side is its a mini rotor "race" motor so the charging system is very weak. It will run itself and the brake lights fine but it's not a fan of running a long time with headlight on
I used a lifan 150 that had a bizarre cdi and ended up switching to a different charging and ignition system ( basic cdi) . 16 front, 24rear on 12" wheels. Does 74
I used the CHP 12v swap harness and just went with whatever cdi it came with. So it might be an odd one. But it was all plug and play. 74! That's awesome. I'm on the factory 10s but with 130/90/10s so very tall tire. If I had to bet it's somewhere around 75ish also.
I got a 12v replacement harness from mini moto on webike. They were $38 + shipping at the time. Ended up having to repin and swap a few connectors due to different types used in jdm/usdm setups. Could have ordered more jdm connectors but $ and time are a thing.