Year:
2009
Make/Model:
Ruckus
Pictures: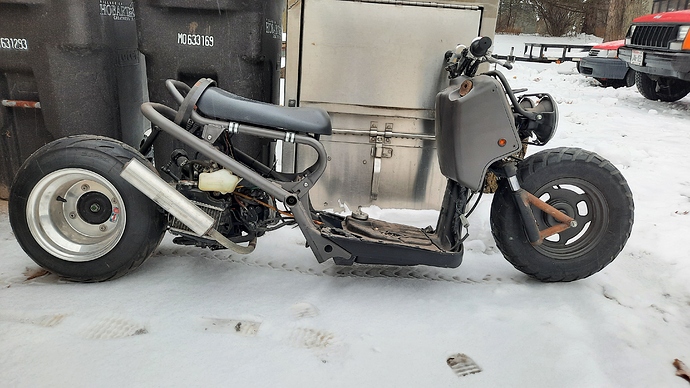 Mods list:
##Cosmetic##
Mojo Customs 8 Inch Fatty Stretch
DWT 10x8 Rear Wheel (Kymco Hub)
Lowered Seat Frame (Garage Special)
Micheline Bopper Rear (130x90x10)
Raked and Lowered Stock Forks
BMX Bar Stem
BMX Handle Bars
Radiants Tail Light
Trailer Lights LED Turn SIgnals
LED Flasher Relay
Rigid Rear End
Terrible Soviet Prosthetic Limb Paint
##CVT##
Polini Vatiator
Dr Pulley Sliders (4.85 g Average)
Gates Belt
Shaved Stock Drive Face
Yellow Battlescooter Contra Shaved to Fit Plastic Cup
Blue Clutch Springs
Met Gears
##Motor##
2v GET5, Ported Head Valve Guides Shaved, Head Shaved .015
Sauce Cup Velocity Stack
Sink Drain Intake Runner
Ported Stock Carb
Lightened Flywheel
Electrical Conduit Exhaust
PCV Delete
Future updates:
Ordered Mojo Front Low Down Disc Brake Conversion
New Front Wheel On The Way
Want to try an electric fan on the radiator to GET the fan off of the flywheel, possibly mount the radiator on the frame.
BBB when the pistons are back in stock.
Make a new exhaust
Misc:
This is the first vehicle I ever had, purchased in 2009 and rode stock for about 2 years. I built it with whatever extra money I had and accumulated most of the parts over a 5 year span. I fabricated what I could and purchased what I could not. It has been parked for about 2 years, so I decided to drag it out and fix the mistakes made many years ago. At one point it ran e85 which had the usual HORRIBLE fuel consumption. To compensate I cut a stock tank in half and raised it with a welded in spacer, effective but hideous. Too many empty tanks on the side of the road made me can that idea. Id like to revisit that on a 58cc motor. Looking forward to reading other peoples builds and seeing the site be populated with more content.